Escape to Paradise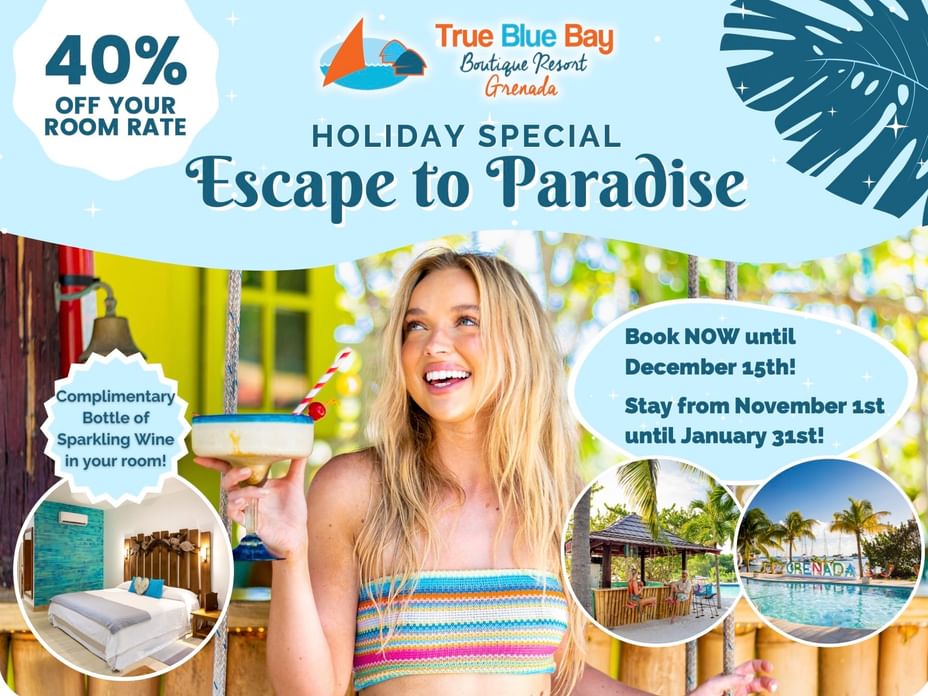 Winter Special at True Blue Bay Resort, Grenada
Embrace the magic of the Caribbean winter with our "Escape to Paradise" special at True Blue Bay Boutique Resort. Experience the ultimate tropical getaway as you enjoy 40% off your room rate, making your winter retreat even more enticing.
Special Inclusions:
40% Off Your Room Rate: Picture yourself in the heart of Grenada's natural beauty, with your room at a remarkable 40% off. This is your chance to indulge in the warmth and charm of True Blue Bay Boutique Resort at an exclusive rate.
Bottle of Sparkling Wine: Toast to your winter escape with a complimentary bottle of sparkling wine awaiting you in your room. It's the perfect way to set the tone for your Caribbean adventure.
Flexible Booking Window: You have the opportunity to book this special offer between now and December 15th, ensuring that you secure your winter paradise before the offer expires.
Travel Dates: Your winter getaway can be enjoyed between November 1st and January 31st, allowing you to embrace the Caribbean sun, sea, and serenity during the most enchanting time of the year.
Daily Breakfast Included: Start your days right with a delectable breakfast included in your stay. Savor the flavors of the Caribbean each morning as you fuel up for your adventures.
Why Choose Us?:
True Blue Bay Boutique Resort is your gateway to paradise, offering a unique blend of Splendor, tranquility, and Caribbean authenticity. Nestled on the stunning shores of Grenada, our resort is surrounded by lush gardens, a vibrant marine environment, and breathtaking bay views.
Indulge in eco-luxury with comfortable and eco-friendly accommodations, world-class dining, rejuvenating spa experiences, and a range of thrilling activities, all designed to make your stay unforgettable.
Don't miss the opportunity to escape the winter chill and find your personal paradise in Grenada. Book now to secure your "Escape to Paradise" special offer and create cherished memories in the Caribbean. Unwind, explore, and immerse yourself in the warmth of the True Blue Bay Resort experience.
For inquiries, reach out to our dedicated team at +1 (473) 443-8783 or email us at reservations@truebluebay.com. Our friendly staff is eager to assist you in creating a seamless and memorable vacation experience.