True Blue Bay Boutique Resort
A Sustainable ECO-Friendly Caribbean Resort
Grenada is an unspoiled and beautiful group of tiny islands at the bottom of the Caribbean chain (the country also includes the islands of Carriacou and Petite Martinique). Colorful Saturday markets, year-round festivals and fairs, complimented by easy-going and friendly people, complete with a rich history and culture weave the tapestry of Grenada. Grenada has a staggering variety of plant and animal life including the plethora of tropical birds, tiny frogs and lizards, while rare orchids punctuate the dense rainforest. Crater lakes, mountain rainforests, dry forests and lowlands that lead to mangrove coasts and then onto brilliant white sandy beaches – Grenada has it all. These beautiful natural features are framed by sparkling blue waters and graceful coral reefs which help provide sand for the most famous beach of all beaches in Grenada, the Grand Anse Beach, as its smooth expansive beach stretches for two-miles and gently curves around to Grand Anse Bay.
Nestled among this Caribbean splendor on Grenada's south coast, you will find True Blue Bay Boutique Resort, a tranquil waterfront resort offering rooms, suites and villas neatly arranged on a hillside overlooking the water. The vibe here is bright, lively and family-friendly, with plenty of activities for guests of all ages. Buildings are colorful in vivid oranges, neon greens, and, of course, deep blues. There is no lack of areas to get your perfect holiday picture with all the quirky decorations around the property!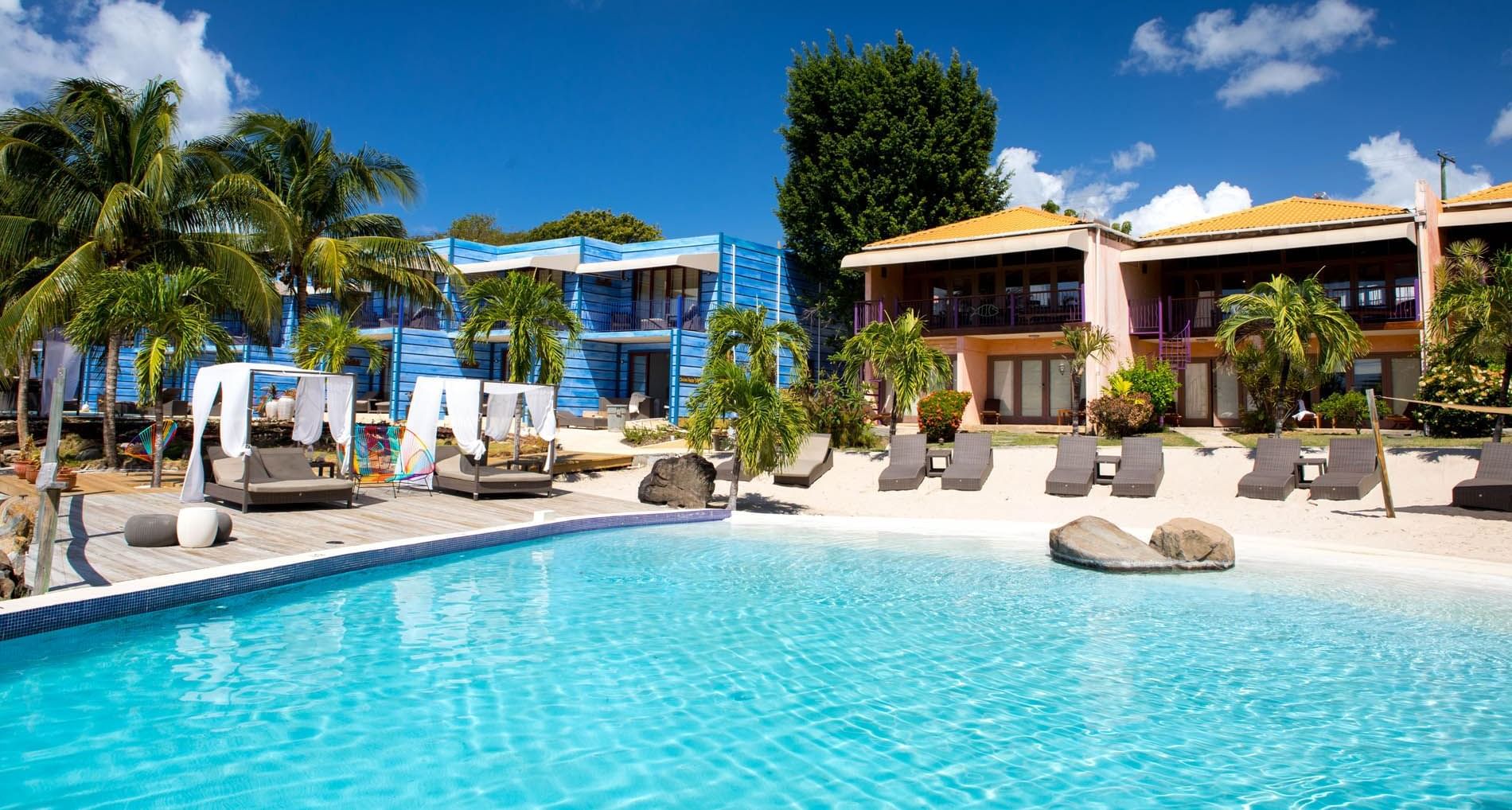 I go to school at SGU and had my parents come down to visit for the weekend. True Blue Bay had phenomenal service getting me the exact room I wanted and the price was very good as well especially since it includes breakfast and the water activities. I could not recommend this place more, especially with how close it was to SGU and I didn't have to pay for a day pass just to sit by the pool with my parents.
The Resort staff was charming, accommodating, and professional. It didn't matter whether we wanted to make dinner reservations, go to the beach, make a spa appointment, or schedule scenic tours- the staff always assisted us with a smile on their face and a helpful attitude. The dock to meet up for diving was also incredibly accessible from our rooms. Overall, this was an absolutely wonderful trip and I wouldn't want to stay anywhere else! I can't wait to return to Grenada and True Blue Bay Boutique Resort :)
This is an amazing resort! The attention put into sustainability while maintaining a comfortable and fun overall atmosphere is phenomenal.
The folks here are amazing. Our daughter just arrived on the beautiful island and checked in for an extended stay. She reports that the Tower Suite is beyond beautiful and the facility is superb. More than that, the family of employees and staff are incredibly kind and thoughtful. I'm so glad we found this wonderful spot. The people there make all the difference. Special thanks to Kisha for going the extra mile.
Waterfront Location
On the South Coast of Grenada
True Blue Bay Boutique Resort is a convenient five-minute drive from the Maurice Bishop International Airport and within walking distance of St. George's University. The world-famous white-sand Grand Anse beach, along with restaurants, supermarkets and banks, are located just a five-minute drive away.
Guilt-Free Luxury
Surrounded by Nature
As our guest, you will enjoy the unspoiled beauty of Grenada and the Caribbean in the guilt-free luxury of an environmentally-conscious boutique resort dedicated to sustainability and regenerative practices. Immerse yourself in nature, attend our morning or evening yoga session in our tree top open air studio, or just relax in your climate smart room. Reserve your stay today and experience the bounty of Grenada's local ecosystem while helping it thrive.
Your Blissful Caribbean Escape
True Blue Bay is a family-owned and operated, climate-smart boutique resort. Created and designed by the owners, the Fielden family, it offers a Caribbean-chic ambience and a colourful and relaxed tropical atmosphere. We are all family here at the Resort, experience more of True Blue Bay, whether you are in Grenada for family time, romance, to relax by the pool or have some soft adventure, we have something for everyone!