Caribbean Boutique Accommodations
Locally Inspired Caribbean Rooms, Suites and Villas
True Blue Bay Boutique Resort in Grenada offers a range of guest accommodations, from luxurious two-bedroom Villas to climate-smart Cocoa Pod Suites and elegant True Blue and Indigo rooms. All rooms feature vibrant Caribbean-inspired decor, sustainable furnishings, and essential comforts to ensure a delightful stay.
Resort owners Russ and Magdalena Fielden, who bought the resort in 1998, envisioned it as a charming Caribbean village with colorful buildings, plenty of trees, birds, and fragrant vegetation, and spacious rooms with verandas framing views of the bay and gardens. With over 40 years of hospitality experience and a commitment to sustainability, they, along with their daughters and granddaughters, have designed, built, and decorated every room and space. Despite challenges like hurricanes and economic downturns, True Blue Bay Boutique Resort has remained true to its playful ambiance, offering both comfort and sustainability to its guests and the Grenada community.
Villas
The Villas are two-bedroom luxury homes ideal for families, friend groups or two couples, with views of the bay, marina, and beach pool. Each of the five villas are decorated in earth tones to provide a sense of tranquility to guests. The master bedroom has a spacious bathroom, king size bed and double doors opening to the gardens. The second bedroom has its own bathroom and option of twin or king bed. Each villa has a private plunge pool, a full open plan kitchen, dining room and a living room with a shaded veranda looking at the bay.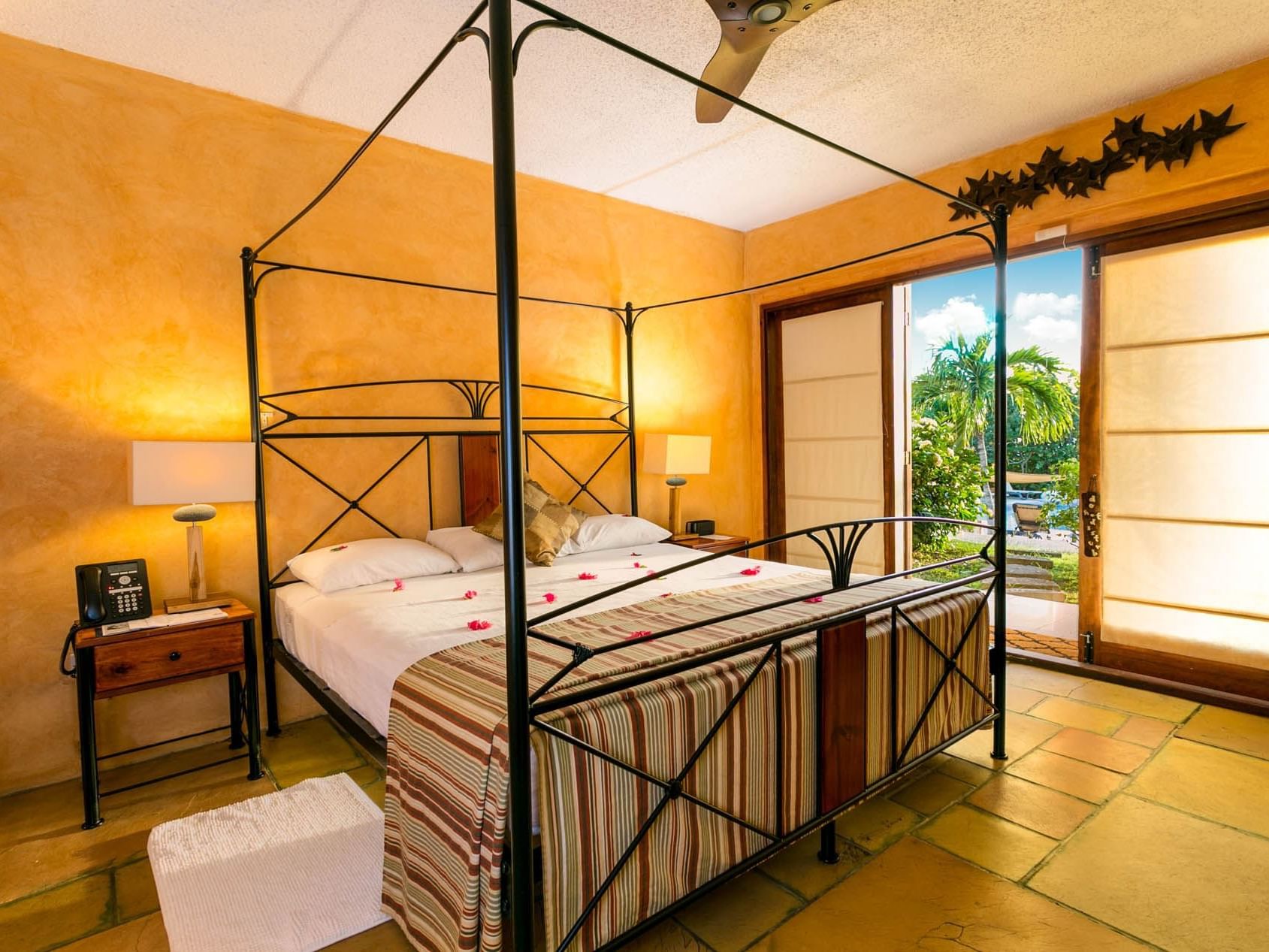 Villa Type: Two-story villas offering two bedrooms (king beds), two bathrooms, a generously sized living area, fully equipped kitchen, private plunge pool, and large veranda.
Location: Central within the resort boasting picturesque views of the beach pool and Bay, allowing you to soak in the beauty of the surroundings.
Ideal for: Families with up to 4 kids, two couples, or friend groups of up to 5 (Occupancy: up to 5 adults/ 4 adults and 2 small children)
Suites
Our intimate Suites are full of Caribbean comfort and charm, featuring tropical unique decor, soft furnishing, indulgent fabrics and cheerful colours. Located around the resort all offer beautiful views of the bay, gardens or marina and are in close proximity to one of our four pools. One of these rooms has been designed to accommodate differently able hotel guests.
HoneyBee Suite
This one of a kind fabulous and exceptional Honeymoon suite is designed and decorated for romance. Tucked away in a secluded intimate area, you enter the Honey Bee Suite by crossing a little bridge! It features a dreamy four-poster king-sized bed, indulgent furnishings and fabrics and custom-designed décor. The shimmering stunning aquamarine ocean views can be enjoyed from the large veranda. If you are looking for the perfect spot to spend your romantic honeymoon, our Honey Bee Suite is waiting for you!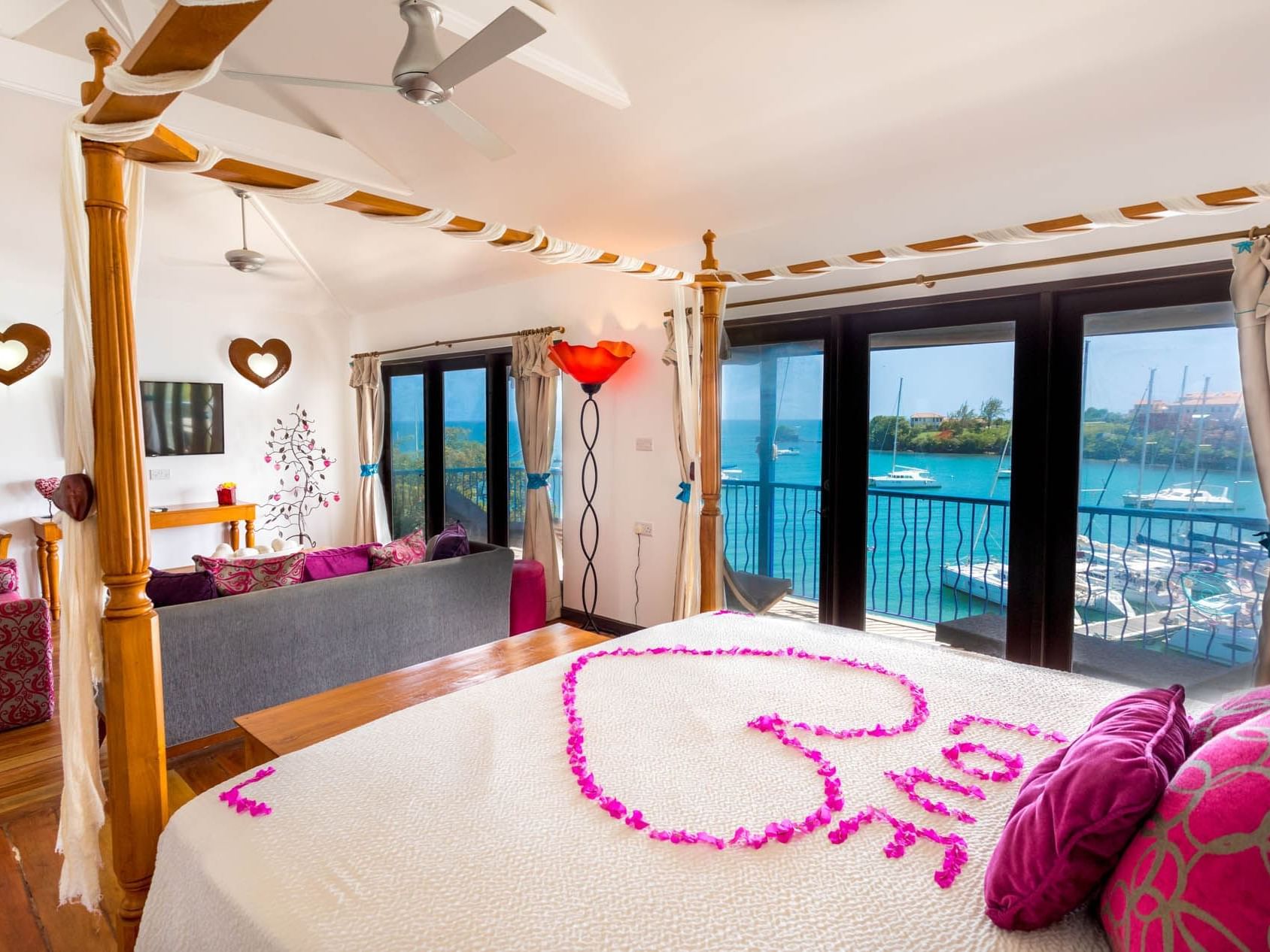 Suite Type: A Honeymoon Suite with a king-size bed, comfy couches, a bathtub, kitchenette, beautiful romantic motifs, and a large veranda to inspire love as you watch the blue ocean.
Location: Tucked away in a secluded, intimate area accessible via a private bridge shaded by trees. Located on the third floor, on the waterfront, and steps away from the Bayview pool.
Ideal For: Honeymooners, couples celebrating their anniversary, or anyone looking for a romantic getaway (Occupancy: Designed for 2 adults deeply in love)
Standard Rooms
Simple yet elegant, these rooms are located around the resort grounds surrounded by beautiful and lush gardens, views of the bay and near one of our 4 pools, these signature rooms are colourful, spacious and comfortable for couples, small families, groups, divers and single travellers. Browse the selection and pick your favourite!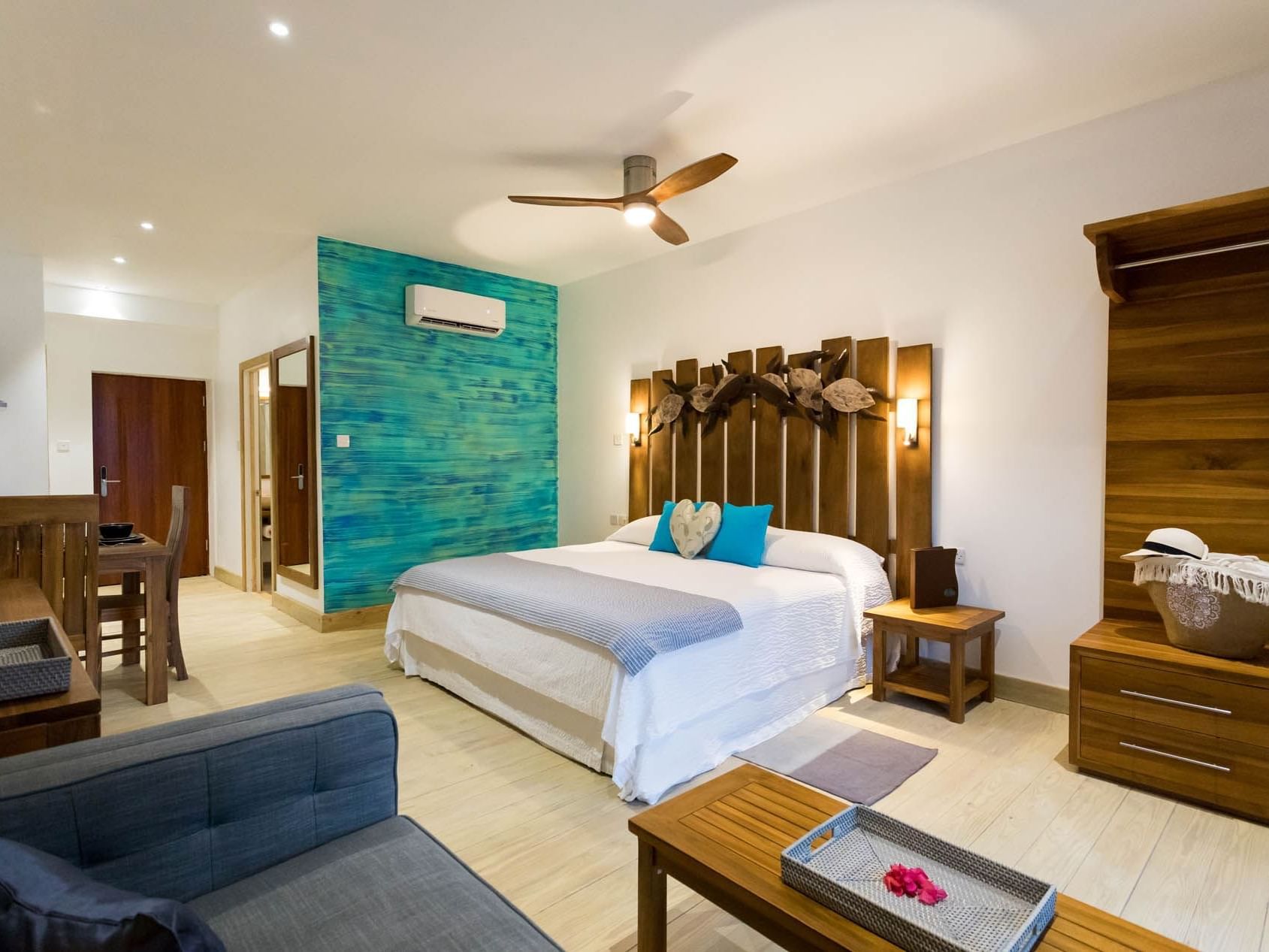 Room Type: Deluxe eco-friendly rooms decorated with an ocean-inspired palette and ethically sourced furnishings. They offer a king bed, a compact kitchen, and a studio couch.
Location: Nestled in a serene environment surrounded by tropical vegetation, these rooms offer views of either the Cocoa Pod pool with the popular Grenada sign or the lush Lap pool.
Ideal Guest: Ideal for eco-conscious travelers, couples, and small families. (Occupancy: Up to 3 adults or 2 adults and 2 small children)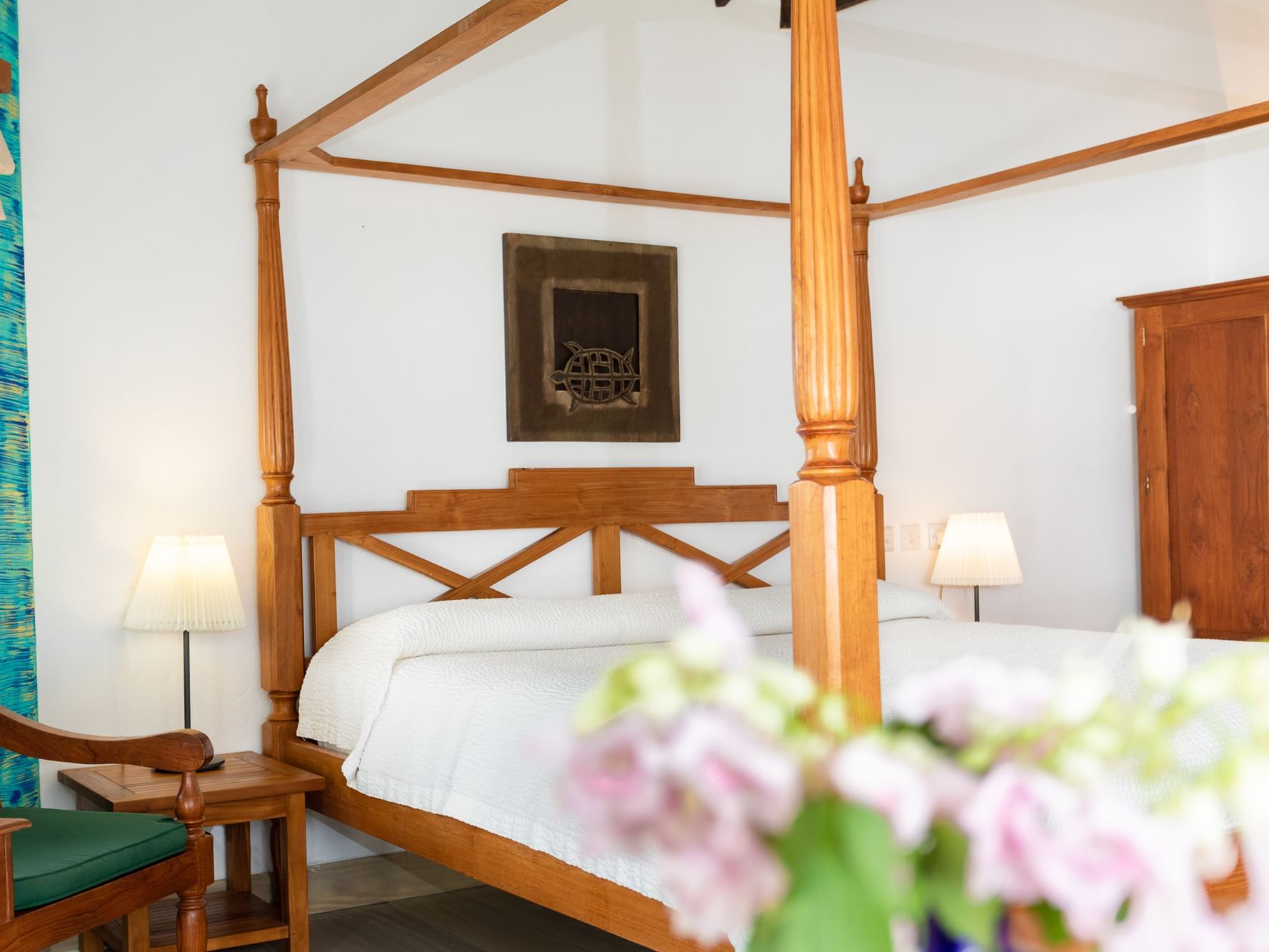 Room Type: Standard rooms with a choice of king-size or twin beds, a compact kitchen, comfy seating, dining for two, and a modern bathroom with a walk-in shower. Available on both ground and upper levels with relaxing terraces or balconies.
Location: Top side of the resort near the Bayview Pool, each room boasts views of tropical gardens, pools, and the bay.
Ideal for: Well-suited for single travelers, couples, or small families (Occupancy: 2 adults; a rollaway bed available for a 3rd guest)
Accessible Rooms
We have adapted several of our rooms to be accessible for differently-able visitors. On request with advance notice, we can adapt one of our Waterfront Suites, a couple of our Cocoa Pod rooms and Indigo Rooms. Our Resort is also almost fully accessible with the exception of the Spa and Yoga Studio.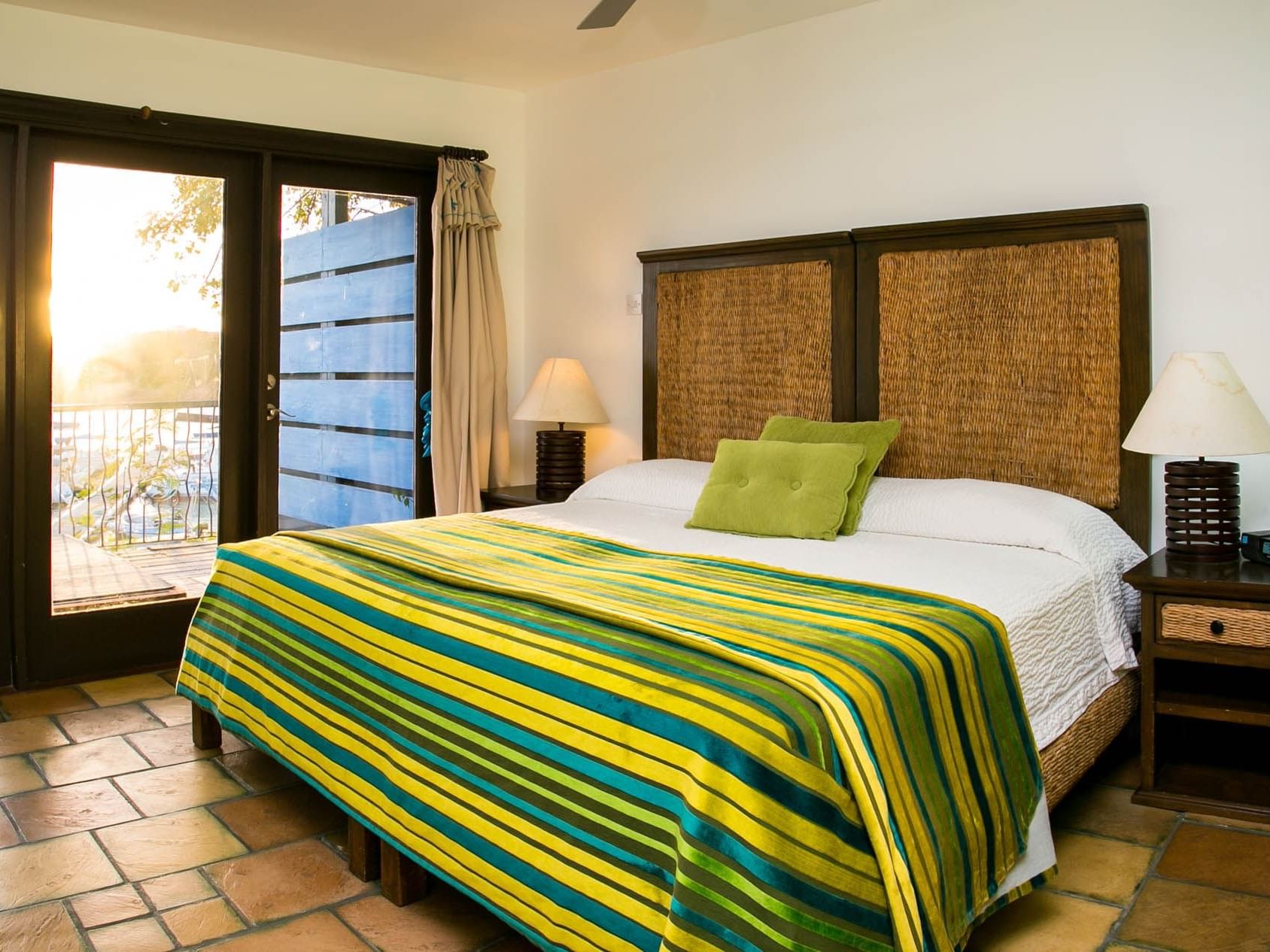 Room Type: Designed with accessibility in mind, these suites and rooms are tailored to meet the needs of guests using wheelchairs. They feature lowered beds, elevated toilet seats, and wide bathroom doors for ease of use.
Location: These accessible rooms are conveniently located around the resort within our Waterfront suites, Indigo room block, and Cocoa Pod room block.
Ideal For: Persons in wheelchairs or with disabilities/injuries (Occupancy: 2 adults; a rollaway bed or sofa bed available for a 3rd guest)