Caribbean Boutique Accommodations
Locally Inspired Caribbean Rooms, Suites and Villas
Guest accommodations at True Blue Bay Boutique Resort in Grenada range from luxurious two-bedroom Villas, to well-appointed climate smart studio style Cocoa Pod Suites to simple but yet elegant rooms like our True Blue and Indigos. All accommodations showcase colorful Caribbean inspired pallets, contemporary sustainable furniture, playful décor and room essential comforts to create a happy space for all our visiting guests.
Resort owners Russ and Magdalena Fielden, when purchasing the resort in 1998, had a vision of how they wanted the hotel to look from the moment they saw it. Magdalena wanted the resort to look like a charming Caribbean village with brightly-colored buildings of different heights, tucked among winding walkways with plenty of trees, birds and fragrant vegetation, spacious rooms with verandas framing views of the bay and gardens. Presently joined by their daughters, Marie, Renatta and their granddaughter Lila, they have designed, built and decorated every single room and space. Taking under consideration their commitment to sustainability, eco-friendly practices, over 40 years of hospitality experience and community awareness.
Over the years, including a devastating hurricane, a couple of world economic downturns and a pandemic, the resort has developed close to their original plan. Styles, trends and many other things have changed, but True Blue Bay Boutique Resort has always maintained a playful ambiance and has kept in mind both comfort and sustainability for its visitors and the Grenada community.
Villas
The Villas are two-bedroom luxury homes ideal for families, friend groups or two couples, with views of the bay, marina, and beach pool. Each of the five villas are decorated in earth tones to provide a sense of tranquility to guests. The master bedroom has a spacious bathroom, king size bed and double doors opening to the gardens. The second bedroom has its own bathroom and option of twin or king bed. Each villa has a private plunge pool, a full open plan kitchen, dining room and a living room with a shaded veranda looking at the bay.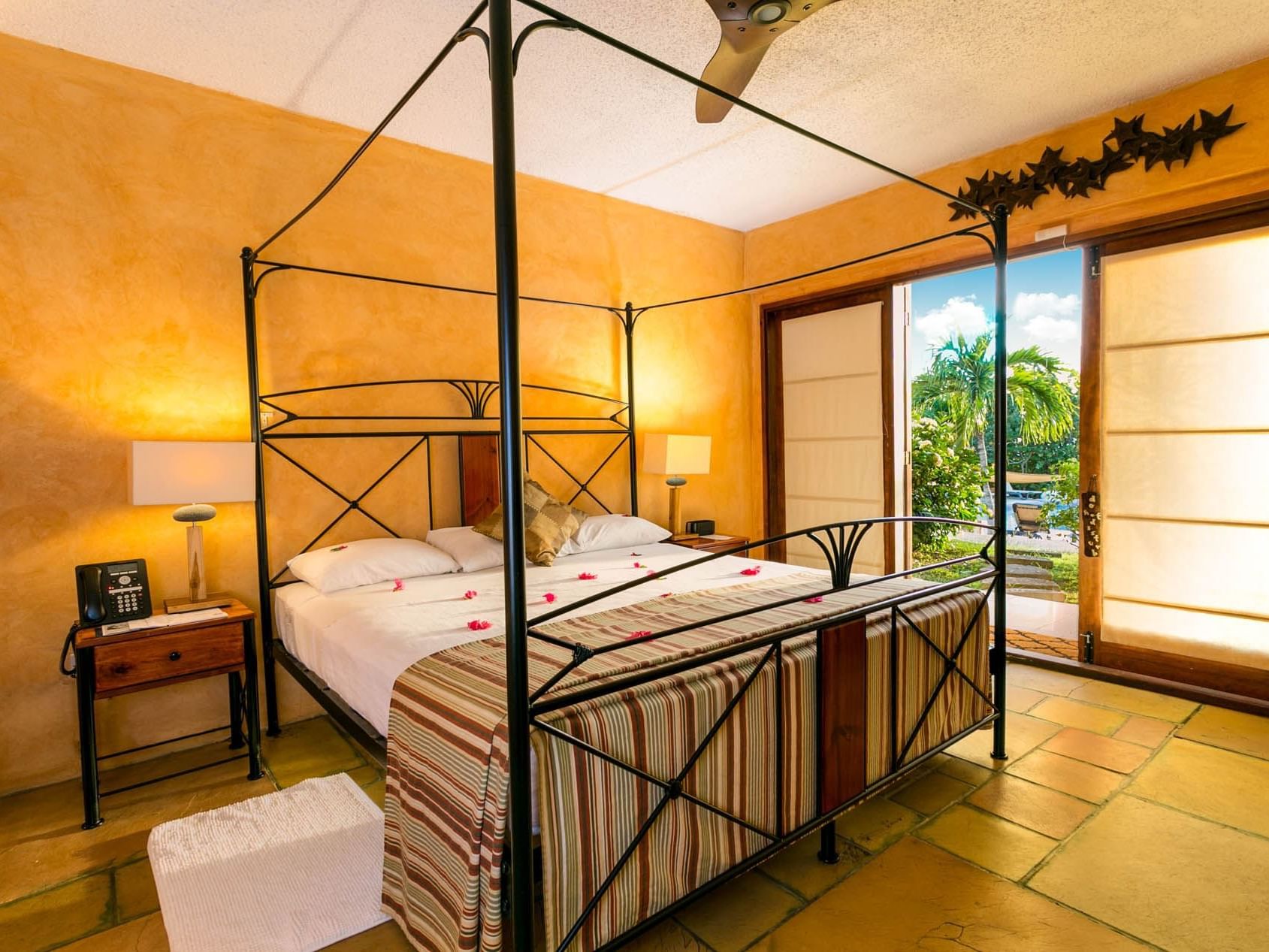 Our two-bedroomed villas are located in the center of the resort and have views of our lovely beach pool and the bay. The villas are self-contained over two storeys with a master bedroom and guest room and two bathrooms on the bottom floor, and a spacious living room with a fully equipped kitchen, a private plunge pool and veranda on the top floor.
Suites
Our intimate Suites are full of Caribbean comfort and charm, featuring tropical unique decor, soft furnishing, indulgent fabrics and cheerful colours. Located around the resort all offer beautiful views of the bay, gardens or marina and are in close proximity to one of our four pools. One of these rooms has been designed to accommodate differently able hotel guests.
HoneyBee Suite
This one of a kind fabulous and exceptional Honeymoon suite is designed and decorated for romance. Tucked away in a secluded intimate area, you enter the Honey Bee Suite by crossing a little bridge! It features a dreamy four-poster king-sized bed, indulgent furnishings and fabrics and custom-designed décor. The shimmering stunning aquamarine ocean views can be enjoyed from the large veranda. If you are looking for the perfect spot to spend your romantic honeymoon, our Honey Bee Suite is waiting for you!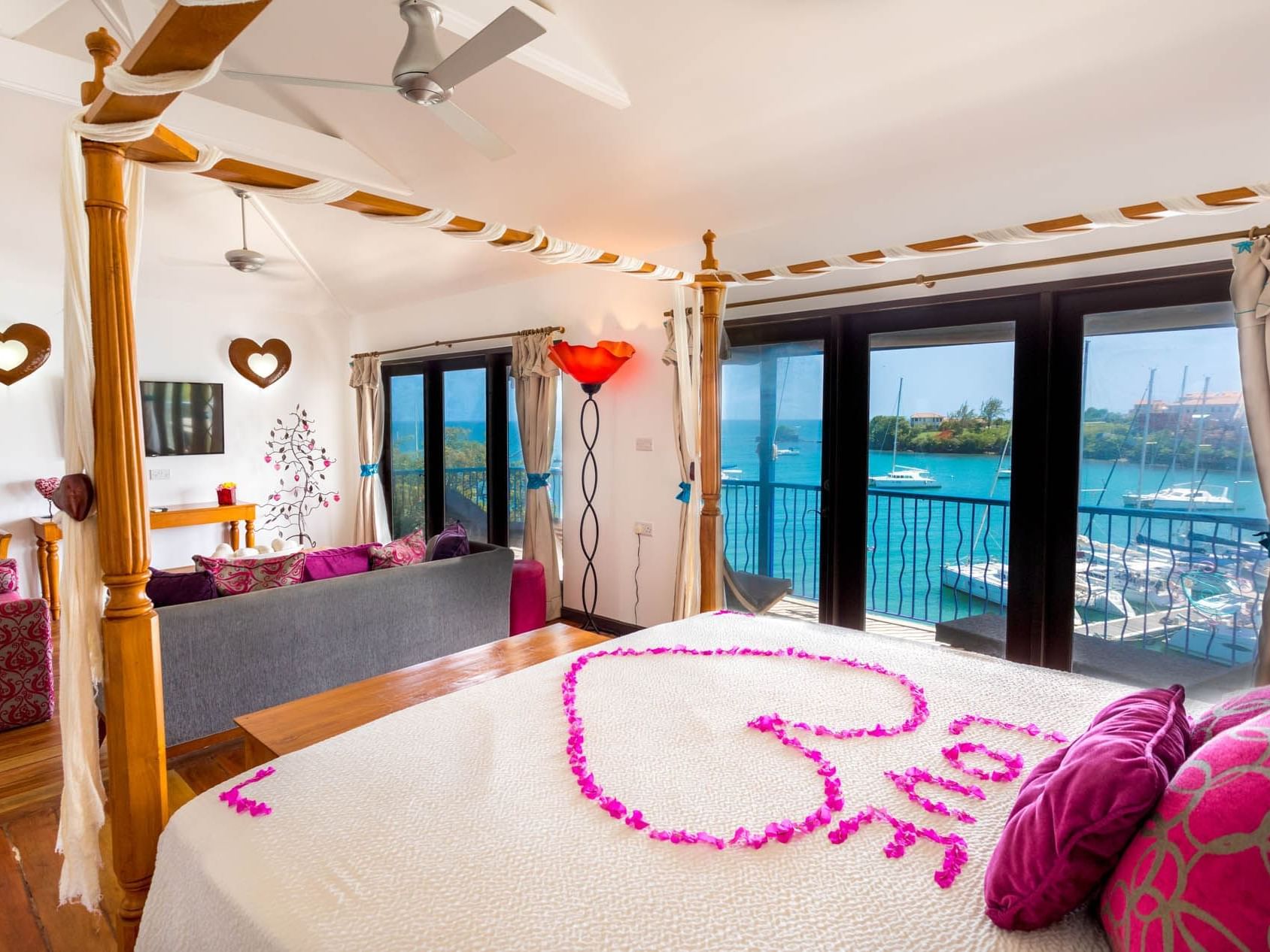 This idyllic suite is furnished with beautiful romantic motifs and soft furnishings, an extra size four-poster bed, comfy couches, bathtub for two, and a little kitchen. The veranda has stunning views of the ocean. The suite is perfect for honeymooners or special romantic celebrations.
Standard Rooms
Simple yet elegant, these rooms are located around the resort grounds surrounded by beautiful and lush gardens, views of the bay and near one of our 4 pools, these signature rooms are colourful, spacious and comfortable for couples, small families, groups, divers and single travellers. Browse the selection and pick your favourite!
Accessible Rooms
We have adapted several of our rooms to be accessible for differently-able visitors. On request with advance notice, we can adapt one of our Waterfront Suites, a couple of our Cocoa Pod rooms and Indigo Rooms. Our Resort is also almost fully accessible with the exception of the Spa and Yoga Studio.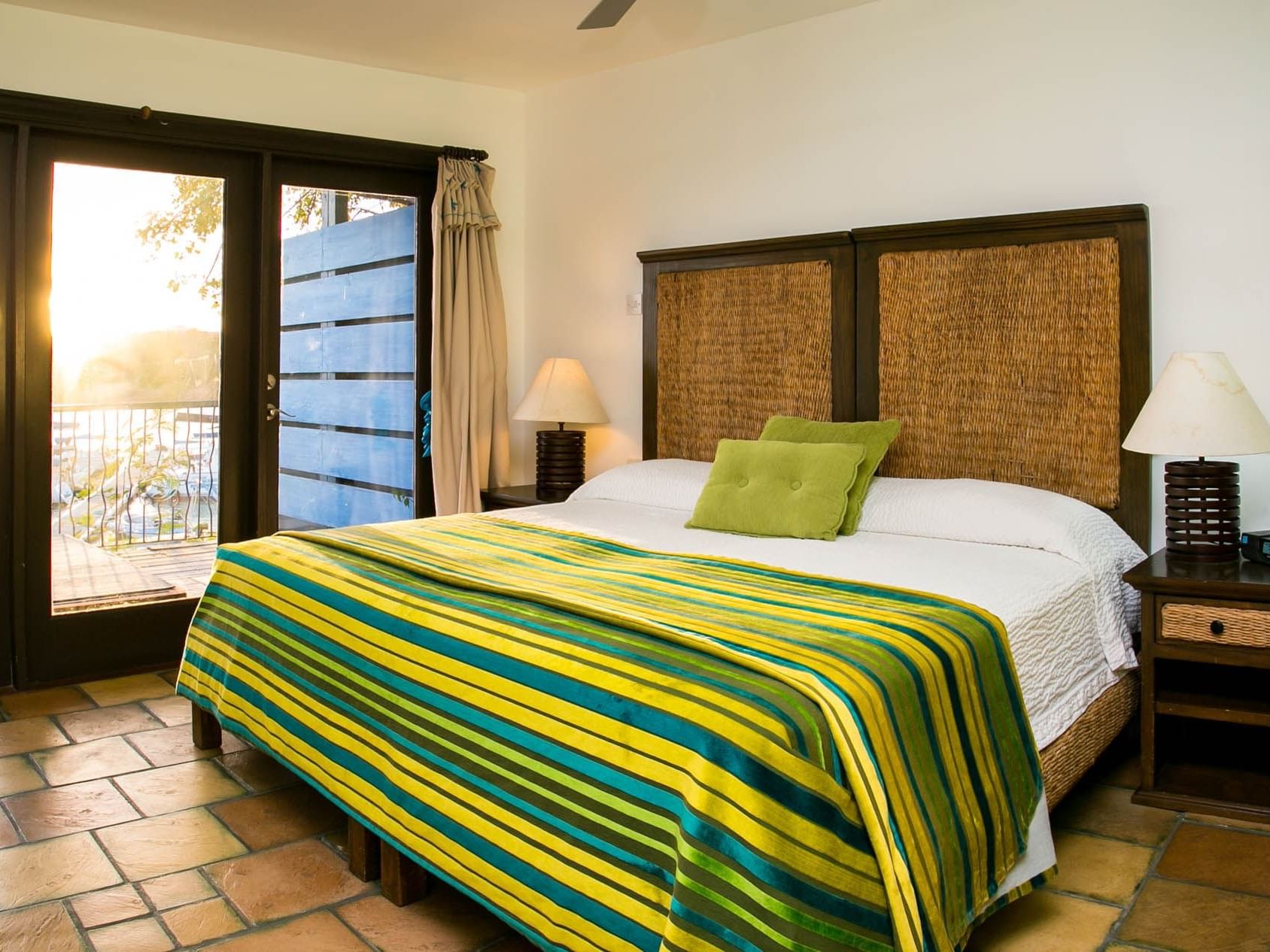 With advance notice we lower the bed, remove the shower glass and increase the height of the toilet to make the bathrooms, with their wide doors, easy to use for those using wheelchairs. Please let us know in advance if you have any additional needs and we will try our best to accommodate you.