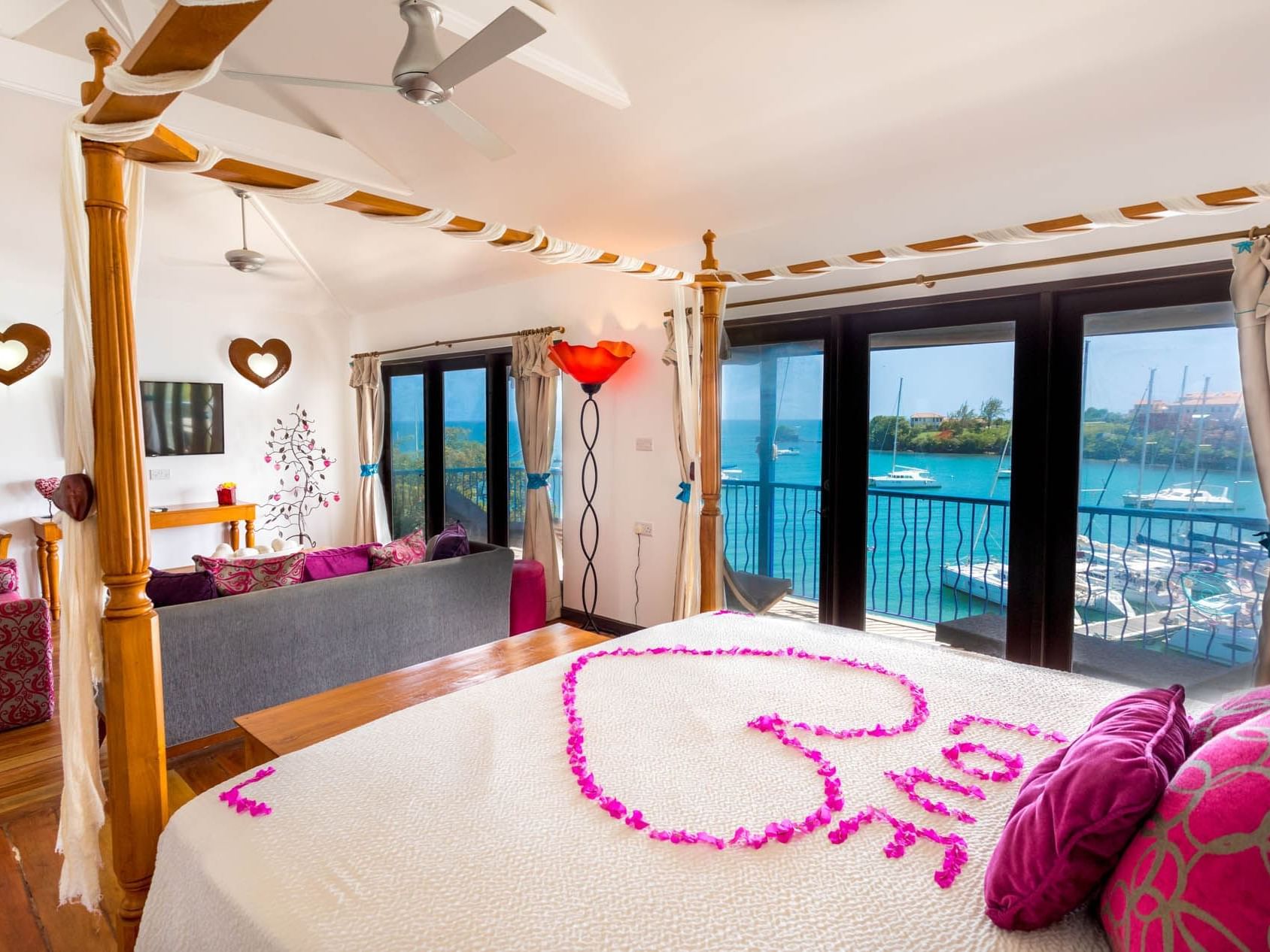 Honey Bee Suite
Nestled in a secluded and intimate corner of the resort, our Honeymoon Suite is the ultimate haven for romance. Access to this romantic retreat begins by crossing a charming private bridge shaded by blossoming flowers and lush trees. Located on the third floor right on the waterfront, it's just a few relaxing steps away from the Bay View swimming pool. The Honeymoon Suite sets the stage for couples to bask in the seclusion of this cherished space, away from the rest of the world.
The Room: This spacious and idyllic suite is thoughtfully adorned with soft furnishings, featuring accents of fuchsia, violet, and red, creating a romantic ambiance. It boasts a king-size four-poster bed, inviting and comfortable couches, a bathtub or shower for unwinding, a compact kitchen, beautiful romantic motifs, and freshly picked flowers to enhance the atmosphere. Offering one of the most captivating views at the resort, the balcony, complete with comfortable seating and loungers, provides an enchanting setting that will inspire love and leave you breathless as you gaze upon the sparkling aquamarine Ocean.
Ideal for: The Honey Bee Suite is tailor-made for honeymooners, those celebrating a special anniversary, or anyone seeking a romantic escape to kindle their love.
Occupancy: Designed for 2 adults deeply in love.
This suite offers the perfect backdrop for creating cherished memories at True Blue Bay Resort.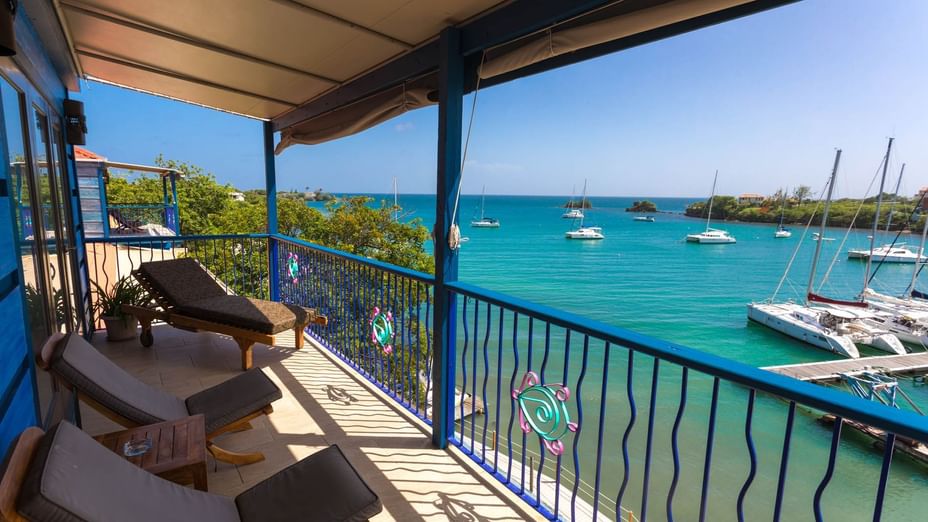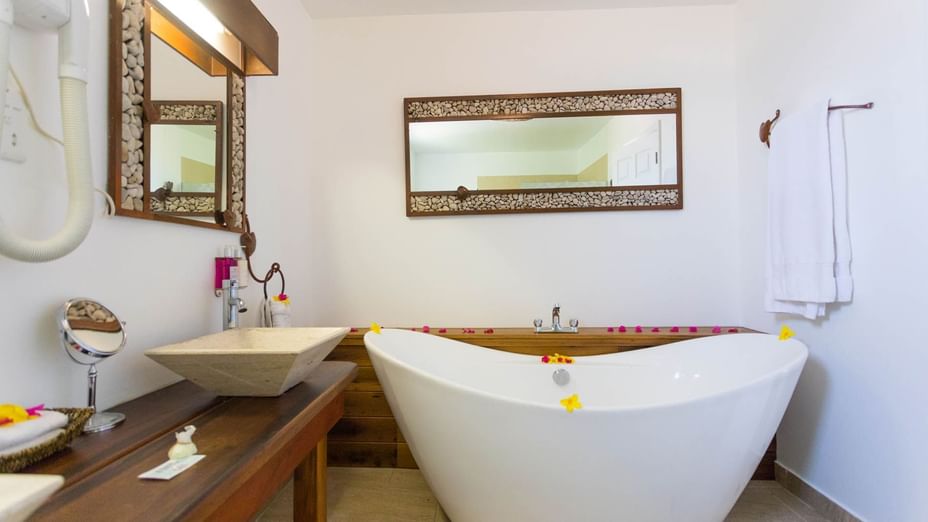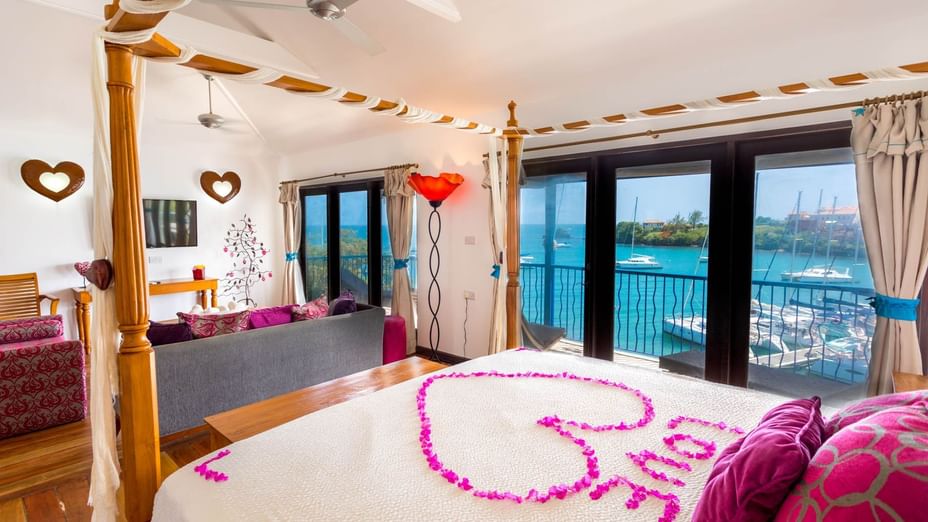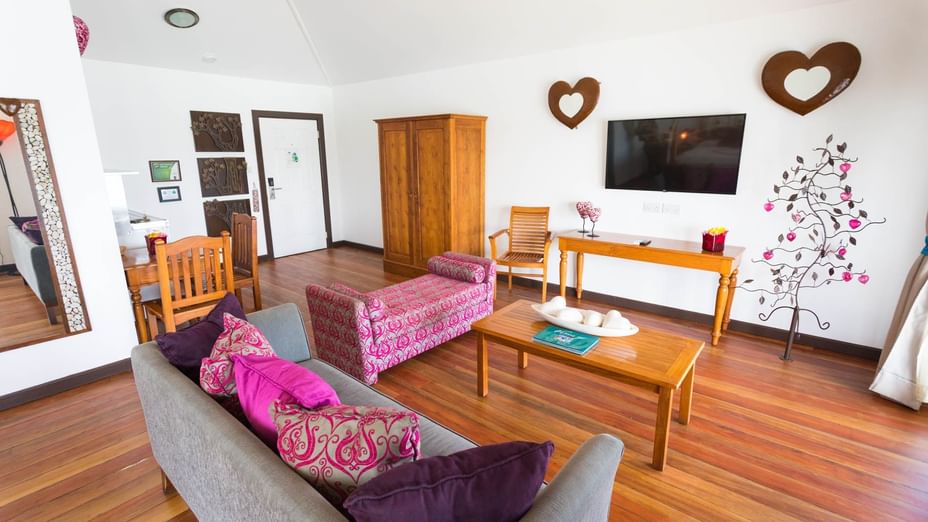 In-Room Amenities
Water saving faucets and toilets
Energy-efficient appliances
Daily housekeeping & turn down service
Shampoo, conditioner, body wash, moisturizer
Bedroom: King size 4 poster bed
Bathroom: Bathtub for two, shower, two washbasins, Hairdryer, Shaver Outlet
Room Eco-Facts
• Partially solar powered during the day • Energy-efficient AC • Led Lighting • Solar water heater Water saving faucets and toilets •
• Eco-friendly bathroom amenities, shampoo, conditioner, body wash, moisturizer • Recycling bins •
• Ethically sourced wooden furnishing • Non chlorinated plunge pool •